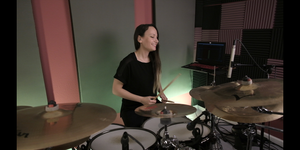 Tamara, a Serbian drummer spent most of her life growing up in Belgrade, Serbia. At the age of 14, she followed her interest in drumming out on stage where, only after 3 months of practice, she had her first gig. This invigorating experience had a huge impact on her and went on to shape her passion for drumming for years to come.
Due to a lack of drum instructors and music schools in the area she lived, Tamara was a determined self-taught learner, grasping the important principals of drumming on her own. However, after a few years, she knew she needed to take a big step in order to get to the next level. She met with George Kollias, one of the most influential drummers at that time. She later moved to the states and toured with bands such as Conquer Divide and Dreaming Dead.
Tamara now works on her own solo project and does session works for other bands. She also teaches the new generation of drummers as an every day passion.